Busy Accounting Software is an online accounting software that enables you to carry out accounting online. You can have access to all the business accounting data of your organization while you are travelling or on-the-go.

Data Hosting Services from BUSY
Background
Sometime back, the Client-Server edition of BUSY (MS-SQL based) was introduced, which provided the facility to use BUSY through Internet, storing data on a remote Data Server. In this model, both Client and Server computers need to be connected to the Internet. Whereas the Data Server requires an Internet connection with static IP, the Client computer can have a normal Internet connection with a minimum speed of 256 Kbps. This model provides the flexibility of sharing the data online from multiple locations across the globe.
Problem
As mentioned above, in order to work in Internet mode, one needs to setup a Data Server where all the data would be stored. The Data Server needs to be connected to an Internet connection with a static IP. It also requires a Server operating system and MS-SQL Server software. Besides, the Data Server should have a good firewall or a good security system to protect the server from unauthorised persons and hackers. All above tasks require technical expertise, which normally is not available with small businesses. So
Solution
To free small businesses from the hassles of setting up a Data Server of their own, BUSY now has installed its own Data Server where any Customer can share the server space on paying a monthly rental. The Data Server installed by BUSY will work as a Remote Server for the Customers who want to work online without going into the hassles of setting up their own server. Moreover, by sharing the space on Data Server from BUSY, the Customers will be free from bothering about the security of the data and from taking regular backups of the data. To summarise, the advantages of using BUSY Data server are:


No technical expertise required in setting up and maintaining Data Server.


Saving in the cost of setting up and maintaining the Data Server.


No need to worry about data backup / security.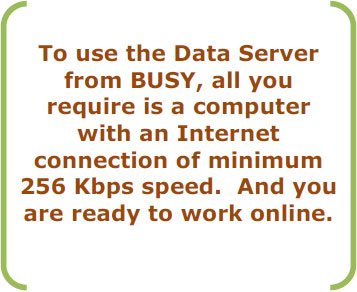 KEY FEATURES OF BUSY ONLINE ACCOUNTING SOFTWARE :
- Online billing software / online invoicing
- Online inventory management
- Online payroll management
- Online POS